I'm based in Summit County, Colorado (think Keystone, Breckenridge, Copper Mountain and, my favorite, Arapahoe Basin.)
To give you an idea of my background, here are the places where I have been:
Places I have lived:
USA: California, Colorado, Michigan, Missouri, Ohio, Wisconsin; Canada: Ontario; Belgium: Brussels area; Germany: Munich area
Countries I have visited:
Antigua and Barbuda, Austria, Bahamas, Belize, Belgium, Bermuda, Canada, Cayman Islands, China, Colombia, Croatia, Czech Republic, Denmark, Dominica, Dominican Republic, England, France, Germany, Greece, Guadeloupe, Hong Kong, Hungary, Iceland, Ireland, Italy, Jamaica, Japan, Liechtenstein, Luxembourg, Mexico, Nepal, Netherlands, Portugal, Romania, Scotland, Sint Maarten, St. Martin, Spain, Switzerland, Turks & Caicos, USA, Vatican City, Wales
National Parks are important to me and a life goal is to visit every US National Park. Here are the national parks I've been to:
Arches, Badlands, Biscayne, Black Canyon of the Gunnison, Bryce Canyon, Canyonlands, Capitol Reef, Carlsbad Caverns, Channel Islands, Death Valley, Denali, Dry Tortugas, Everglades, Grand Canyon, Great Basin, Great Sand Dunes, Great Smoky Mountains, Guadalupe Mountains, Haleakala, Hawaii Volcanoes, Kenai Fjords, Kings Canyon, Mesa Verde, Mount Rainier, Olympic, Rocky Mountain, Sequoia, Virgin Islands, Voyageurs, White Sands, Wind Cave, Wrangell-St. Elias, Yellowstone, Zion
Also (other countries' national parks):
Antigua & Barbuda: Codrington Lagoon, Nelson's Dockyard, Two Foot Bay; Bahamas: Lucayan; Canada: Banff, Glacier, Jasper, Kluane, Kootenay, Waterton Lakes, Yoho; Dominica: Morne Trois Pitons; Germany: Berchtesgaden, Nationalpark Schwarzwald (Black Forest National Park); Iceland: Þingvellir (Thingvellir), Vatnajökull, Snæfellsjökull; Ireland: Killarney; Italy: Cinque Terre; Nepal: Chitwan; Peru: Reserva National Marasha; St. Martin: Saint Martin Nature Réserve; United Kingdom: Loch Lomond and The Trosachs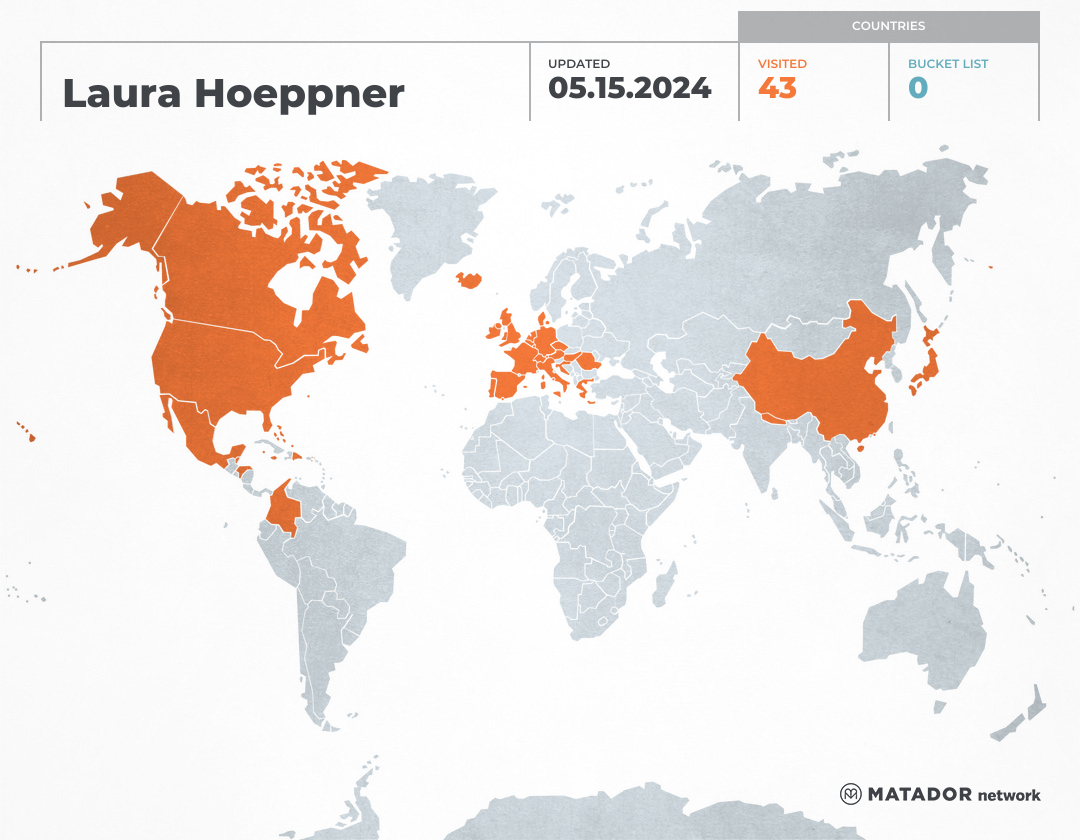 Laura has been to: Austria, Belgium, Bermuda, Bahamas, Belize, Canada, Switzerland, People's Republic of China, Colombia, Czech Republic, Germany, Denmark, Dominican Republic, Spain, France, United Kingdom, Gibraltar, Greece, Hong Kong, Croatia, Hungary, Ireland, Iceland, Italy, Jamaica, Japan, Cayman Islands, Liechtenstein, Luxembourg, Mexico, Netherlands, Nepal, Portugal, Romania, Turks and Caicos Islands, United States, Vatican, British Virgin Islands, U.S. Virgin Islands.
Get your own travel map from Matador Network.